Community Advocates Public Policy Institute and MCSAP believe that members of our community should be empowered to make informed decisions so that we can prevent small problems from turning into traumatic crises. That's why have developed a niche in Southeastern Wisconsin as a training resource for community members, human services providers, and coalition members who want to take their skills and awareness to the next level and become prevention experts.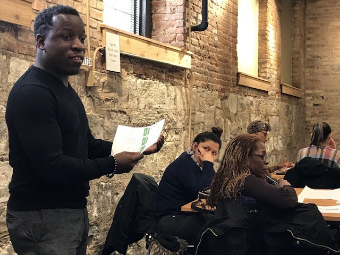 We are grateful to partner with the City of Milwaukee Office of Violence Prevention, which utilizes ReCast MKE funding to allow us to provide our substance abuse prevention trainings free of charge.
Our certified trainers provide unique, interactive, and enlightening learning opportunities on mental health, substance use, trauma, parenting, and coalition building so that participants can become advocates in the workplace, in schools, and in community settings.
Our Trainings
Our evidence-based, trauma-responsive learning opportunities include:
The Brain Architecture Game: The Brain Architecture Game is a tabletop game experience that builds understanding of the powerful role of experiences on early brain development -- what promotes it, what derails it, and consequences for society. It is appropriate for use with community leaders, policymakers or government officials, health providers and educators. Learn more.
Botvin LifeSkills: This course trains the youth workers who will be using Botvin LifeSkills Training with young people in their care. Botvin LifeSkills Training is a research-validated substance abuse prevention program proven to reduce the risks of alcohol, tobacco, drug abuse, and violence by targeting the major social and psychological factors that promote the initiation of substance use and other risky behaviors. This comprehensive program provides young people with the confidence and skills necessary to successfully handle challenging situations. Learn more.
Building Prevention Programs: This training demonstrates how program structure, content design, and facilitation delivery impact substance abuse prevention programs. Prevention program facilitators are encouraged to attend to share their techniques for engaging youth in prevention programs. Learn more.
Drug Impairment Training for Education Professionals: Drug Impairment Training for Educational Professionals (DITEP) will enable school nurses, principals, and school resource officers to determine if a student is impaired; whether the impairment is due to a medical problem or is drug related; and, if the impairment is drug related, through proven diagnostic procedures, what category or categories of drugs that are likely causing the observed impairment. Learn more. 
Mental Health First Aid for Adults: We offer Adult Mental Health First Aid, which provides adults with the tools to assist other adults who may be developing a mental health problem or experiencing a crisis. This training will help employers, law enforcement, health care professionals, faith leaders, community members, and caring friends and family be of assistance when they encounter an adult in need. Learn more. 
Mental Health First Aid for Adults Working with Youth: You may know CPR for physical emergencies. Why not learn Mental Health First Aid to use during a mental health crisis? The course introduces common mental health challenges for youth, reviews typical adolescent development, and teaches a 5-step action plan for how to help young people in both crisis and non-crisis situations. Learn more. 
Question, Persuade, Refer (QPR) Suicide Gatekeeper Training: QPR-trained gatekeepers learn how to be receptive to certain warning signs, intervention measures and follow-up methods when dealing with potentially suicidal peers. The ultimate goal is to refer the person being helped to the correct professional care. Learn more. 
Substance Abuse and Trauma: During this evidence-based training, substance abuse prevention specialists, youth workers, community advocates, and AODA counselors explore national, statewide, and local data on trauma and substance abuse. Participants leave with a greater understanding of the prevention, impact, and resolution of substance abuse and its connection to trauma. Learn more.
Youth Reentry Support Training: In Wisconsin, mass supervision of African Americans drives mass incarceration of African Americans. The Reentry Support Training equips residents and service providers with tools to support previously incarcerated people in reentering the community. Learn more.
Youth Thrive: Youth Thrive™ is both a research-informed framework based on a synthesis of research on positive youth development, resilience, neuroscience, stress and impact of trauma on brain development and the name of the Center for the Study of Social Policy's national initiative to improve the well-being outcomes of all youth (ages 9-26), with a particular focus on youth in, or transitioning from, foster care. Learn more. 
Additional Resources
Receive the Public Policy Institute's training course announcements in your inbox by signing up here.
Our bimonthly Milwaukee Prevention Journal e-newsletter includes training opportunities, events, and resources. Subscribe here. 
Want to rent our Training Center for your next group meeting? Contact Kari Southern at 414-270-2950 or ksouthern@communityadvocates.net.