You'll always know what's going on with our organization.
MCSAP International Overdose Awareness Day Memorial Event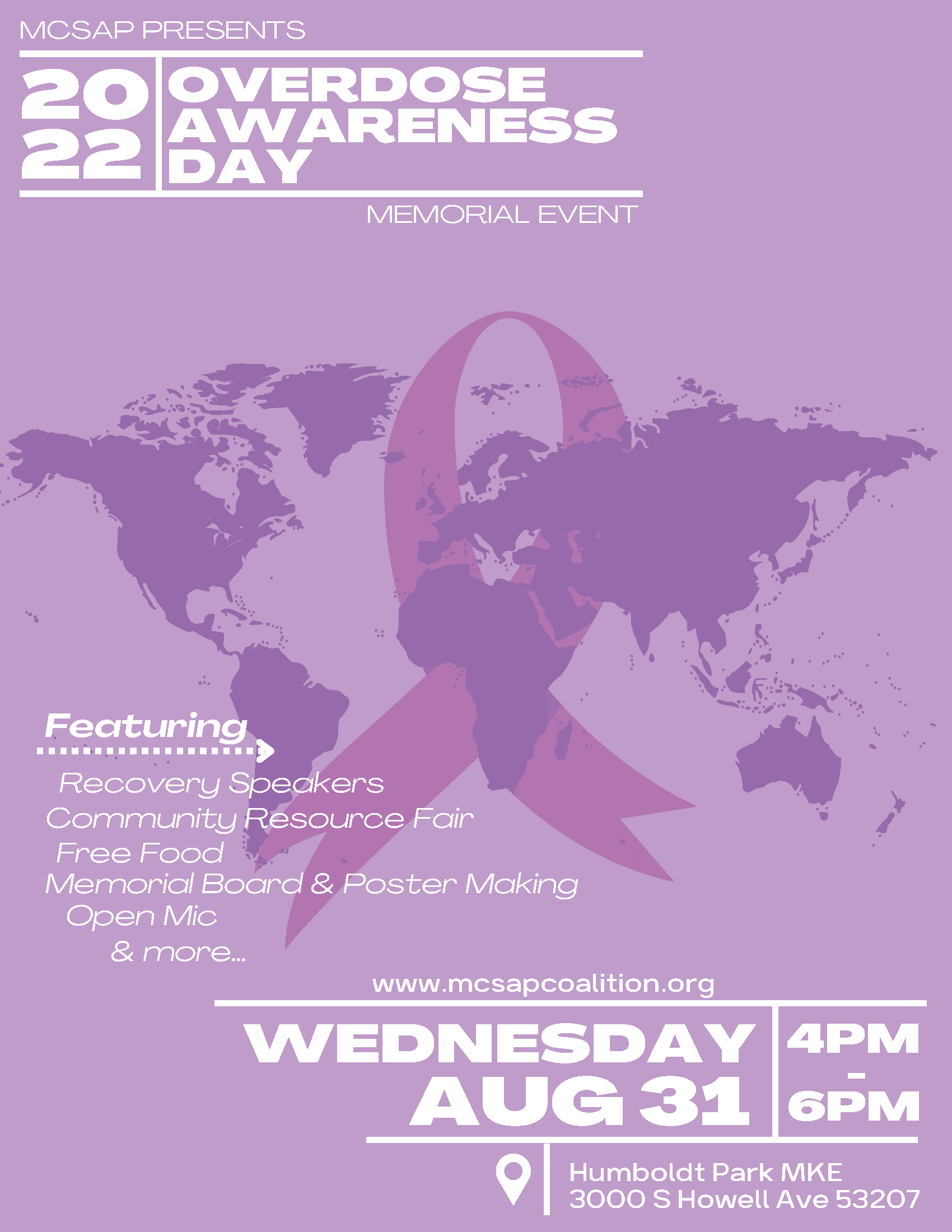 Seeking to provide a safe, healing place for friends and families who have lost a loved one to overdose, the Milwaukee County Substance Abuse Prevention coalition (MCSAP) is hosting a community gathering to mark International Overdose Awareness Day through a Memorial Event on Wednesday, August 31. An unprecedented 643 individuals died as a result of overdose in Milwaukee County in 2021, driven by the lethality of drugs available in the community and across the country. At this event, MCSAP hopes to memorialize and grieve the individuals lost, as well as provide healing and hope to those left behind, including overdose survivors.
MCSAP's International Overdose Awareness Day Memorial Event will be held from 4 to 6 p.m. on Wednesday, August 31, at the Humboldt Park Bandshell, 3000 S. Howell Ave., Milwaukee. All are welcome to attend this free community event with free food provided by Neu-Life Community Development's Farmfork, an urban agriculture and culinary arts program for youth. There will be memorialization activities, speakers, naloxone administration training, and an open mic.
A resource fair will feature partnering organizations BMO Harris Bank, CleanSlate Medical Group, Community Advocates, Community Medical Services, Gateway Foundation, Goal Chasers 2020 LLC, Milwaukee Fire Department, Sixteenth Street Community Health Centers, Street Angels, Vivent Health, and Wraparound Milwaukee, just to name a few.
An interactive highlight this year is the City of Milwaukee's Community Memorial Tree, which gives friends and families the ability to honor their lost loved ones as part of an art installation that will live in City Hall. MCSAP's event is one of three locations that will host the Community Memorial Tree on August 31, and friends and family members are encouraged to participate and share their experiences.